December 2018
Fun Fact:
Did you know that our CBA Learning Module Series Exam Prep and Curriculum Supplement was offered in 1998 before the BCBA credential was offered? The name for the Series was based on Florida's Certified Behavior Analyst (CBA) Exam. Originally, the software was only available for MS Windows computers, had about 20% of the current content, was sold on CDs, and all modules were fluency modules!
---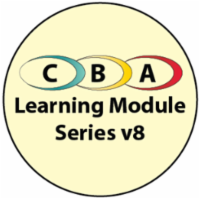 The CBA Learning Module Series has come a long way, now featuring over 3,200 unique questions, Pre-/Post-Test assessments, and the ability to compare your performance to the average of all learners. It's also used as a required resource in over 85 Verified Course Sequences. If you or anyone you know is preparing for the BCBA or BCaBA exams in February or May, now is the perfect time to get started. Try the free demo on our learning platform!
---
Great Leaps Academy is hosting our 2-day, 1st annual PT and ABA conference. The conference will be covering topics related to functional living, verbal behavior, data display, fluency, ethics, and precision teaching. CEUs will be offered with purchase of professional ticket. Presenters will include Rick Kubina, Carl Binder, Elizabeth Haughton, Michael Maloney, Richard McManus, Jonathan Amey, Jose Martinez-Diaz, Michael Miklos, Ryan O'Donnell, Willow Hozella, Andrew Houvouras, Abigail Calkin, among others.

Registration is now open. The event will include daily morning assorted fruit juices, assorted muffins and danishes, served with freshly brewed regular and decaffeinated coffee and selection of teas from 8 AM to 9 AM. Lunch from 12 PM to 1:30 PM, will be on your own. There will also be a social networking event with live entertainment, light hors d'oeuvres and cash bar from 6 PM to 9 PM the first night. Parking is available on site at no additional charge. The Ted Whitlock Community Center is 1 hr 11 min. from Orlando International Airport (MCO), 1 hr 31 min. from Orlando Sanford International Airport (SFB), 54 min. from Vero Beach Municipal Airport (VRB), 1 hr 46 min. from Palm Beach International Airport (PBI), and 27 min. from Orlando Melbourne International Airport (MLB).


Office Number: 321-610-3849
Cell: 570-573-9027 Fax: 321-428-4112 admissions@greatleapsacademy.org
---

Job Opportunity:
Behavior Therapist
The Carbone Clinic
Dubai
Update December 2018
The Carbone Clinic in Dubai opened in October 2013 under the leadership and direction of Dr. Vincent J. Carbone, Ed.D., BCBA-D. Our mission is to provide evidence-based behavior analytical services to children with autism and other developmental disabilities.
The Carbone Clinic in Dubai provides direct one-on-one services in a center-based program and is looking for full-time Behavior Therapist to provide direct one-on-one behavior analytical services. This is an excellent opportunity to receive training from Dr. Carbone and his colleagues in the application of behavior analytical principles and procedures to children with autism.
(Click to view Duties and Responsibilities, Skills and Requirements...
)
Start in January 2019 (full-time only)
Please send resume to:
Ms. Mary Murro
info@thecarboneclinic.ae
---
Featured Article - Precision Teaching: Expectation vs. Reality
Michael Maloney
Precision Teaching, a measurement and decision-making system created by Dr. Ogden R. Lindsley at the University of Kansas, appears to be making a comeback among teachers and therapists. Precision Teaching, known commonly as PT, has proven itself to be incredibly helpful with all sorts of children for almost 50 years. It has had a hard-core following for decades with its own conferences, its own journal and its own organization, but it has never gained real traction in the realm of public educators.
Because PT counts and records the frequency of specific observed behavior, such as reading aloud, it allows a teacher or therapist to track changes on a daily basis in a very short period of time, usually one minute. Students can be taught to self-record, approaching a teacher or therapist for assistance when the chart does not show improvement over 2 or 3 consecutive days.
For example, students can read and record all of the sounds and sound combinations they have learned thus far in their reading program. They can do the same with word lists and with passage reading, or math worksheets or creative writing. As long as the behavior can be counted, it can be measured and recorded so that the changes or lack of them are clearly and immediately known.
So why could this be considered dangerous?
When many teachers and therapists learn to use PT, they develop an urge to know more and more about how well their students are performing. They decide that they have to count and record a variety of their students' skills. They start a daily measure (called a pinpoint) to see if their students really know their sounds and sound combinations, their cumulative word lists, their passage reading frequencies, their addition, subtraction, multiplication and division math facts. Soon they are drowning in data. They cannot oversee the more than 100 charts that their students produce every day. Usually about 10-15% of the charts will show a need for the program to be changed. The student is not improving or has met the specific aim for this task and needs to move up to the next task.
(click here to read more...)
Here are three sources to find the Precision Teaching Standard Celeration Chart
Interested in learning more about Precision Teaching?
Enroll in a 12-Week Online CEU Workshop with the University of West Florida
A Model for Education: Behavior Analysis, Direct Instructions, and Precision Teaching.

The "Maloney Method" uniquely incorporates the best educational strategies into an all-encompassing system. With 40 years of successful interventions for children and adults, the Maloney Method will help improve your planning, programming, and interventions leading to improved results.




Michael Maloney is an educator, researcher, writer, and speaker with more than 50 years of hands-on experience in both the private and public education sectors.
---

Job Opportunity:
2 BCBA Positions Available
Texana Children's Center for Autism: Houston Metro Area
Locations: Sugar Land, Rosenberg, & Fulshear, TX;
travel within region is required on an occasional basis.
The BCBA or Behavior Analyst Supervisee provides center based, comprehensive and/or focused treatment to children and adolescents with an Autism Spectrum Disorder diagnosis or related condition from the age of diagnosis to 21. Services include assessment of language, self-care, social skills, academics, behavior function, etc.; development, implementation, evaluation, and monitoring of behavior intervention plans; development and updating of treatment objectives; consultation to schools and families; and staff/family training. Position requires extensive hands-on behavior intervention directly with clients, parents, and staff. There is a large component of staff/RBT supervision and training. Clients present challenges including lack of skill acquisition, physical aggression and self-injurious behaviors.
Schedule: primarily Mon – Fri, 8 am -5 pm with some weekends and evenings scheduled in advance.
Contact: Kate Johnson-Patagoc, MS, BCBA, Director of Specialized Services,
---
Books make great gifts.
Here are some we think you'll enjoy this holiday season:
NEW! Behavior Analysis for Lasting Change, 4th Edition

This comprehensive introduction to the field of behavior analysis has been completely updated and references thousands of scientifically-supported constructive solutions within hundreds of areas of human performance. Features of Behavior Analysis for Lasting Change: 1) Written by a team of authors who are experienced, accomplished, and well-respected as scientists, scholars, consultants and teachers in the ABA field 2) Includes the latest version of the BACB Task List and prepares the reader for the BCBA exam. The text covers essentially all current concepts and readies the reader for supervised field application 3) Provides adjuncts to accompany and support readers' mastery of the material in the text.

Order Now


Describes what constitutes meaningful versus non-purposeful activities for adults with autism and other severe disabilities in a classroom or center-based program. Then this step-by-step guide presents an evidence-based process for changing non-purposeful activities, using behavior analytic research and application.


Provides a logical, culturally sensitive, and values-based resource to aid practitioners in making informed decisions on the most effective treatment for any given client at any given time. By providing multiple illustrative examples, practitioners will learn to use their professional judgment to integrate the best available evidence with client values and context.


A manual written for individuals who work with learners who struggle with executive function deficits. The manual takes the perspective that executive function skills can be improved through effective intervention, just like any other skills. This how-to manual provides practical strategies for teaching learners to be focused, organized, flexible, and able to effectively manage themselves.


A practical manual and ongoing professional resource for frontline staff undergoing training to become Registered Behavior Technicians™ (RBT). RBT™ is the recommended certification of the Behavior Analyst Certification Board™ (BACB) for entry-level staff who implement behavior analytic services.
Interested in more Books? Browse our entire selection!
---
Maryland Association for Behavior Analysis*

12/06 - 12/07

Baltimore, MD

Arizona Association for Behavior Analysis

12/08 - 12/09

Arizona

Association for Behavior Analysis International*

1/18 - 1/20

San Francisco, CA

California Association for Behavior Analysis*

2/1 - 2-3

Long Beach, CA

Ohio Association for Behavior Analysis*

2/8 - 2/9

Columbus, OH

Behavior Analysis Association of Michigan*

2/21 - 2/22

Ypsilanti, MI

Women in Behavior Analysis Conference

2/28 - 3/02

Nashville, TN

Connecticut Association for Behavior Analysis*

3/1

Cromwell, CT

Texas Association for Behavior Analysis*

3/14 - 3/17

Fort Worth, TX

Massachusetts Association for Behavior Analysis*

3/22

Marlborough, MA
*BDS plans to attend